The Triangle area is famously home to a multitude of sports facilities, amateur sporting events, and colleges which boast excellent athletic programs. However, it is not a major hub for professional sports. This is not because the Triangle is lacking in any way, but rather because Raleigh-Durham was simply not originally designed to host major sporting events such as the Super Bowl or the World Cup.
Even so, there is an industry that has a strong potential to nurture the existing sports ecosystem of the Triangle and allow it to finally reach its full potential. Even better, with this new solution, we would still not need to equip the area to host huge events. With esports, the Triangle can finally take its rightful place as the esports capital of the United States.
This is because the key beneficial difference of esports is that teams do not compete in person.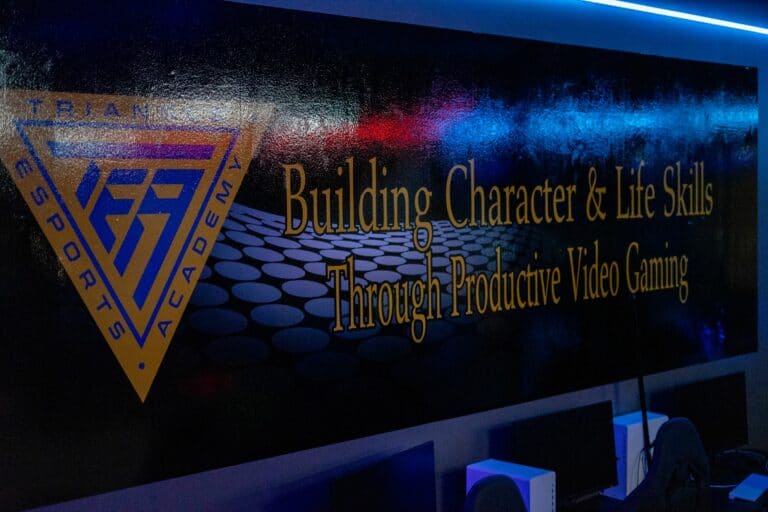 Three Key Elements for esports Growth
The Triangle already has three key elements that make it the ideal center for esports growth. By investing in three more specific areas, the Triangle can guarantee its role as a true hub of esports.
 Resources The Triangle Already Has
Tech companies.

Many renowned companies found their roots in the Triangle, such as SAS, Red Hat, and Epic Games. Other large companies have also set up a headquarters in the Triangle, like Lenovo, IBM, and Cisco. Tech companies are very necessary for the growth and development of esports. 

Collegiate esports.

The popularity of these activities has been growing in the Triangle, as well as degrees and certifications centered around esports, game design & simulation, and cybersecurity. Schools such as Wake Tech, William Peace, NC State, and more offer esports programs in addition to their traditional academic programs. 

Large esports events.

These gatherings have been happening consistently in the Triangle since the esports bill was announced in 2021. In 2022, Raleigh was host to 3 major esports events. These events are wonderful for our economy and the Triangle's esports ecosystem, but they alone are not enough for the Triangle to establish itself as a true esports hub.
What The Triangle Needs To Take The Next Step
Larger esports facilities. We need to build venues equipped to host medium to large esports events, with the capacity to accommodate 500 to 5,000 spectators. Many esports events require a larger overall space than that offered by most gaming centers, which typically only have around 50 gaming stations and may not be conducive to spectators.

Additionally, hosting esports events at live event venues can be inconvenient and costly due to the need for specialized internet and power infrastructure, as well as the requirement to rent equipment. Unlike traditional sports, esports events do not usually have long lead times for planning, which can make it difficult to secure a live event venue on short notice.

By creating an esports-focused venue that is available for events on a local and regional level, we aim to provide tournament organizers with an accessible and cost-effective option for hosting events, without the need for long-term advance reservations which can sometimes require a staggering 18-month notice.


A professional esports organization. The Triangle is perfectly equipped to house an esports organization due to the area's low cost of living (compared to LA, Chicago, Dallas, etc.), great quality of life, and solid esports presence.

The Venture Capital bubble is bursting and esports is being negatively impacted as a result. This downfall has caused many to predict a multitude of organizations being forced into folding, merging, down-raising, or selling. This situation creates a unique opportunity to acquire or create an esports organization which is community-focused instead of one that is solely dependent on winning tournaments and getting sponsorships.



K-12 esports and youth development. EdTech businesses can facilitate this by partnering with the community to offer extracurricular activities for students outside of what is available at school. 
During my time in school, I was exposed to only a narrow range of career options and there seemed to be a dismissive attitude towards industries outside of the traditional fields of medicine, law, engineering, and teaching. Because of that, we are currently seeing a massive amount of open trade and tech positions which only require a certification instead of a four-year degree. 
I am pleased that the Wake County Public School System is taking steps to address the issue of close-minded education. Their teachers are now encouraging a wider range of career paths and there are career development coordinators in place to facilitate partnerships with local businesses of all sizes, including my own and larger companies such as Wolfspeed and Epic Games. The inclusion of esports as a program will greatly enhance the effectiveness of these initiatives and support the goals of both the school system and tech companies.
How Triangle esports Serves the Community
North Carolina Esports Academy (TEA) has been actively involved in serving the community already by making tech/IT education available for the next generation. We understand that both parents and children desire opportunities that provide a fun socializing experience while also developing key skills that the child can harness for a promising future. 
We take a unique approach to esports, allowing youth to learn about roles such as video game design, coding, and software development so that their time is wisely spent developing transferable skills. In other words, TEA teaches young gamers critical thinking, leadership, cooperative, and motor skills along with STEM knowledge that will help them secure a stable career in adulthood.
In summary, due to a widespread lack of understanding of what esports is, many investors jumped into this industry prematurely and are now pulling out after realizing how severely ineffective the current business model is. If you are interested in learning more about the "overhype" of esports, consider reading my last blog post.
With the exception of a select few outliers, all successful companies such as McDonalds, Coca-Cola, and Samsung started off being community-focused. They first served the local population and built a brand nurturing positive relationships with the government, citizens, and other businesses.
This is the strategy that must be utilized in order to build a successful esports company and grow the esports ecosystem.